E Class Trams Are Coming to Bundoora!
E-Class trams are set to make their debut on Melbourne's Route 86 next month, which operates from Waterfront City Docklands to Bundoora RMIT.
Minister for Public Transport Jacinta Allan was joined by Member for Bundoora Colin Brooks and former Victorian Premier John Cain to announce the introduction of low-floor trams to the route.
Route 86 was initially extended to La Trobe University under the former Cain Government during the 1980s and later to its current terminus at Bundoora RMIT.
The new E-Class trams will be the first low floor trams to operate along the corridor, making it safer and easier for passengers to get where they need to go, including La Trobe University's Melbourne Campus.
Public Transport Victoria is working with Yarra Trams to prepare Route 86 for the introduction of the longer, high capacity trams, which will carry more passengers along the busy route.
A number of upgrades and alterations will ensure the longer E-Class trams can operate safely along the route, which travels through Docklands and Bourke Street Mall, and to the Princess Theatre, Melbourne Museum and High Street, Northcote.
E-Class trams are the biggest, safest and most accessible trams on the network. Each tram can carry 210 passengers when full, and include audio and visual passenger information, air conditioning, improved safety features and dedicated spaces for passengers with mobility aids or prams.
E-Class trams are being built in Melbourne at the Bombardier manufacturing facility in Dandenong, with 41 of the current order of 70 trams already running along Routes 96 and 11.
The new trams will be progressively introduced to Route 86 as they continue to come off the Melbourne manufacturing line.
Quotes attributable to Minister for Public Transport Jacinta Allan
"E-Class trams are the biggest, safest and most accessible trams we've ever had on our network — and they're made right here in Melbourne."   
"The introduction of E-Class trams on the busy Route 86 corridor will help us get more people where they need to go safer and sooner."  
Quotes attributable to Member for Bundoora Colin Brooks
"I know the community will enjoy seeing and getting on board these brand new trams, which many students will take advantage of to get to La Trobe University and Bundoora RMIT campuses."
"Successive Labor Governments have all invested in the popular 86 tram route to deliver better public transport to Melbourne's northern suburbs."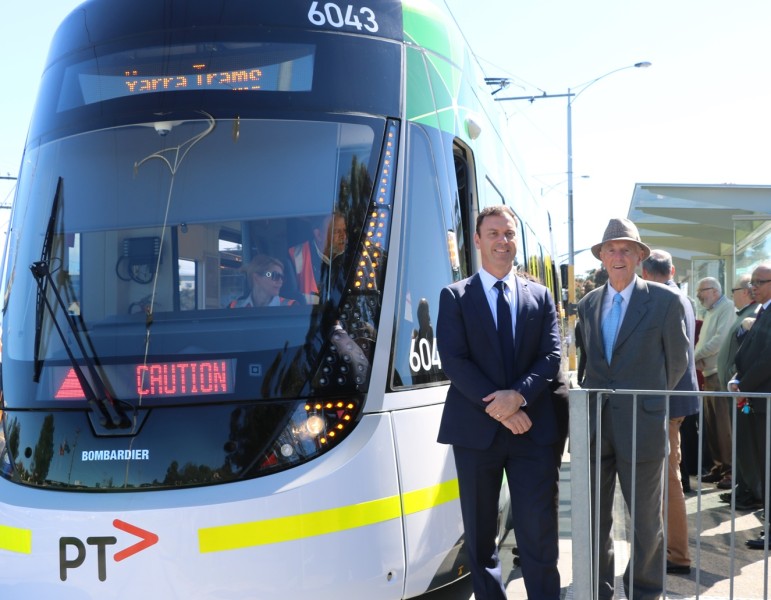 (Pictured above: Colin with Former Premier and Member for Bundoora, John Cain, standing next to one of the new trams which will commence operation on the 86 route)